Aviación
ENGLISH FOR SPECIFIC PURPOSES / Inglés para fines específicos
AVIATION
 AVIATION ENGLISH – Andy Roberts, Henry Emery (Macmillan)
Aviation English is a new course in English Language Communication Skills for pilots and air-traffic controllers.
The Student´s book Helps students achieve and maintain level 4 according to the ICAO language requirements, Can be used as a self-study package or with groups in a classroom. Divided into 12 Units in both the Student's Book and CD-ROM.

AIRSPEAK – Student´s book + audio cd (Pearson)
Fiona Robertson
Effective use of standard ICAO phraseology is an essential part of safe radiotelephony communications. Based on authentic and simulated recordings, this fully updated edition of Airspeak gives pilots systematic practice in this area. The exercises develop operational fluency in routine and non-routine situations.
Includes MP3 CD with 6 hours of audio material (CD can be played on PCs. MACs and most modern CD players. Helps prepare for ICAO Level 4 in English. Designed for self study and classroom use with answer/check sections. Extensive practice in listening and speaking skills.

AIR FORCE – (Express Publishing)
Career Paths: Air Force is a new educational resource for people who are serving or intending to serve as professionals in the aerial division of the armed forces, and who want to improve their English communication skills in a profession-oriented environment. Incorporating career-specific vocabulary and contexts, each unit offers step-by-step instruction that immerses students in the key language components. Career Paths: Air Force addresses topic including: the parts, types and functions of aircraft; air force organization and training; the range of air force career specializations; the types and characteristics of air force weaponry; air force tactics and strategy; and many more. The series is organized into three levels of difficulty and offers over 500 vocabulary terms and phrases. Every unit includes a test of reading comprehension, vocabulary, and listening skills, and leads students through written exercises and oral production
Components: Student's Book + Audio CD  -  Teacher's Book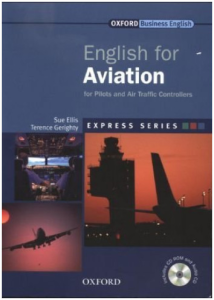 ENGLISH FOR AVIATION – (Oxford)
Key Features 'STARTER' warm-up activities use students' experiences to lead in to each unit topic. Tip boxes present key language points, useful phrases, and strategies. 'OUTPUT' activities at the end of each unit encourage discussion and immediate practice of the material. Interactive MultiROM with every title with self-study material for students to maximize their time in and outside the classroom.
Components: Student's Book + CD-Rom and Audio CD