Eventos
2017
School events! & Dynamic ideas!
March, Saturday 4th 
From 08:30 to 13:30
Sala de Conferencias Hotel Raíces
San Nicolás 324, Pergamino
Both workshops delivered by Eugenia Dell´Osa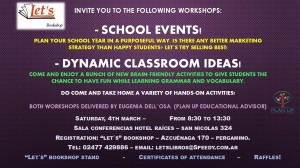 2016
Febrero:
Pearson & Let´s organize a Teacher Training Seminar in Pergamino.
25 Febrero 2016. "FROM PAPER TO CELL PHONES",  by Daniela Zalloco.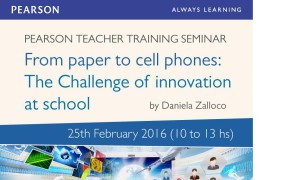 30 Abril, 2016
Sacred Heart Institute & Let´s bookshop organize
a teacher development workshop in Santa Rosa, La Pampa.
"The Ultimate Language & Pronunciation Revamp", by Chris Kunz.

Segunda Feria del Libro de Inglés en Villa de Merlo, San Luis (10 y 11 de Junio, 2016).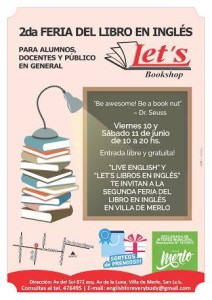 Facultad de Turismo & Urbanismo (Univ. Nac. de San Luis) y  Let´s bookshop: Organizaron un workshop destinado a alumnos, profesores, traductores  y especialistas en Turismo, a cargo del Prof. Chris Kunz.