Inglés – Inglés
DICCIONARIOS / DICTIONARIES
Diccionarios Inglés/ Inglés – English/ English Dictionaries
Level: Upper Intermediate/ Advanced
LONGMAN DICTIONARY OF CONTEMPORARY ENGLISH with DVD-Rom
 5th edition  (Longman)
Never be lost for words again
• 230.000 words, phrases, and meanings
• 165.000 corpus-based examples
• Integrated Collocations Dictionary with over 65.000 collocations
• Integrated Thesaurus with over 18.000 synonyms, antonyms, and related words
• Register notes focus on the differences between spoken and written English
• 3000 most frequent words in spoken and written English highlighted
• Clear definitions using only 2000 common words.
The ultimate DVD-ROM resource for reference and practice
• 88.000 pronounced examples and 1 million additional corpus examples
• 147.000 collocations + 48.000 synonyms, antonyms, and related words
• Thousands of interactive exercises including practice for FCE, CAE, CPE, IELTS, and TOEIC
• Longman Vocabulary Trainer – the quickest way to learn and revise vocabulary
• Longman Writing Assistant – write correct English first time, every time
English level: Upper-Intermediate to Advanced (B1 C2)
Editor: Joanna Turnbull
With over 35 million copies sold, Oxford Advanced Learner's Dictionary is the world's bestselling dictionary, and the dictionary teachers and students love to use.
Key features:
*NEW 1,000 new words and meanings covering technology, lifestyle, slang,the economy (carbon trading, citizen journalism, malware, social bookmarking, stack it, staycation, X factor).
*NEW Oxford 3000™Plus shows students the most important words to know in English and the most important meanings of those words.
*NEW Academic Word List words marked.
*NEW 32-page Oxford Writing Tutor helps students plan, write and review their written work.
*NEW Topic Collocation notes and synonym information enables students to extend their vocabulary to over 7,500 words.
*NEW 64-page Visual Vocabulary Builder with colour photos and illustrations.
*NEW Oxford iWriter on CD-ROM an interactive tutor to help students plan, write and review their written work.
 
MACMILLAN ENGLISH DICTIONARY + CD Rom 
Level: Upper Intermediate / Advanced
It clearly identifies productive and receptive vocabulary, recognising that there is a distinction between words necessary to learn and those that will appear but not be used frequently. The useful vocabulary, commonly known as ´productive´, is treated in detail with information about its use, collocations and grammatical patterns as well as examples in use. The remaining, less necessary words, known as receptive, are dealt with in less detail, in order that learners will recognise and understand them. The new accompanying CD Rom contains the whole of the dictionary plus… a thesaurus function for every meaning of every word, interactive exercises, and web links to connect you to relevant internet resources.

CAMBRIDGE ADVANCED LEARNER´S DICTIONARY + CD Rom   3rd edition
Intermediate to Advanced
A fully updated edition of the Cambridge Advanced Learner's Dictionary.
This paperback edition is ideal for advanced (C1-C2) learners of English and contains up-to-date vocabulary, including words from the areas of technology, media, language, society, and lifestyle, plus important words for academic study. With over 140,000 words, phrases, meanings, and examples, hundreds of pictures and illustrations, clear definitions and a new 'Focus on Writing' section, the dictionary is perfect as a reference tool and as a study companion. Informed by the Cambridge International Corpus and correlated to English Vocabulary Profile, it is also ideal for exam preparation. The CD-ROM contains the complete dictionary and recordings in British and American English.

LONGMAN LANGUAGE ACTIVATOR New Edition (Longman)
Helps you write and speak natural English!
The revolutionary writing dictionary that helps advanced students improve their vocabulary. The Longman Language Activator takes students from a key word or basic idea, like 'good', and shows more precise words or phrases with information on register, context and grammar structures.
Helps students choose the right word by helping them understand the differences in meaning between words with similar meanings / Detailed definitions and natural examples show students the correct word to use / Students learn how to use their new word or phrase correctly using the collocations and phrases given for each meaning.

LONGMAN EXAMS DICTIONARY + CD ROM (Longman) 
Help your students improve their exam performance by insisting on the Longman Exams Dictionary, the only dictionary written specifically to help advanced exam students with 212,000 words, phrases and meanings.
Vocabulary Skills: Students can focus on vocabulary for common exam topics. The Topic Activator is a highly effective tool that groups key vocabulary for topics such as the environment, computers and the media.
Writing Skills: Students can work on improving their essay writing skills with the Essay Activator, which contains relevant vocabulary and collocations for essay writing with examples from authentic academic writing.
Exam Practice: The dictionary increases your students' chances of exam success with over 35 hours of interactive exam practice and feedback for FCE, CAE, IELTS, TOEIC® and TOEFL® on the Longman Exams Coach CD-ROM.
The CD Rom: Help and feedback from the Longman Exams Coach – a virtual teacher on CD-ROM / 35 hours of interactive exam practice with feedback / Over 3 hours of practice listening tests / Easy-access reference guides for grammar and writing / Get your students used to exam conditions with the test mode.
DICTIONARIES:

ENGLISH / ENGLISH – Level: Intermediate
Inglés / Inglés nivel Intermedio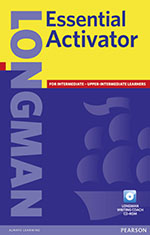 LONGMAN ESSENTIAL ACTIVATOR + CD Rom  
Level: Intermediate.
Expand your vocabulary
*The Longman Essential Activator isn´t just useful- it´s invaluable, handy, and versatile. From basic words like useful, learn thousands more to expand and vary your vocabulary.
*Clear definitions and plenty of natural examples help you choose the right word, every time.
Write essays that impress
*NEW Learn new words by topic with word banks in the colour section.
NEW Check your own writing against model essays on common topics- from environment to technology
*NEW Learn how to structure your essays correctly, using the writing tips

LONGMAN ACTIVE STUDY DICTIONARY + 
CD Rom
Level: Intermediate
For students who want to improve their English and build their vocabulary, the Longman Active Study Dictionary has more words, phrases and examples than any other dictionary at this level.
Thesaurus boxes help students expand their vocabulary.
Thousands of collocations show students which words they need to learn as a phrase.
3000 Active Words with key information including grammar patterns, allow students to focus on the most important words to learn.
5000 extra synonyms and antonyms.
Colour photos help students understand meanings more easily and make words more memorable
With the CD Rom: practise your pronunciation, listen to thousands of example sentences, record your own pronunciation /Plus: extensive exercise bank, colour photo dictionary, sound and videos, free "pop-up" dictionary.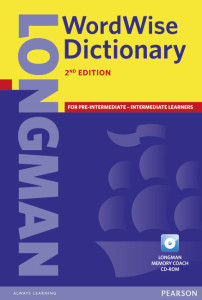 LONGMAN WORDWISE DICTIONARY + CD ROM
Level: Intermediate
Ideal for making that move from bilingual to monolingual dictionary, because it is one of the easiest and clearest dictionaries to use. Easy access to different meanings/ Authentic written and spoken language for examples/ Grammar boxes/ Idiomatic expressions/ Phrasal verbs easily shown with examples.
C.D-Rom: Full Dictionary/ Words pronounced/ Interactive exercises/ Photos and video clips.
OXFORD WORDPOWER DICTIONARY + CD Rom
4th edition    
Level: Intermediate to upper intermediate
The dictionary that gets results, now with Oxford iWriter on CD-ROM
Updated with over 500 new words, phrases and meanings, Oxford Wordpower Dictionary is a corpus-based dictionary that provides the tools intermediate learners need to build vocabulary and prepare for exams. Oxford 3000™ keyword entries show the most important words to know in English. This edition includes new Topic Notes, Exam Tips and Writing Tips, and a 16-page Oxford Writing Tutor.
NEW on the CD-ROM: Oxford iWriter for B1-B2 students to develop writing skills, and the iGuide, an interactive tutorial to help students explore dictionary entries.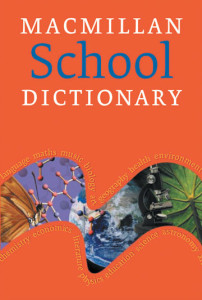 MACMILLAN SCHOOL DICTIONARY (Macmillan)
Level: Intermediate
The Macmillan School Dictionary is a brand-new two-colour dictionary for intermediate level students containing all the words they need for studying in English.
Strong curriculum content
• Special emphasis on school subject vocabulary
• Subject-specific words highlighted throughout
• Word selection based on the 200 million word World English Corpus supplemented with words taken from curriculum coursebooks.
• Helpful reference section containing information on the periodic table, irregular verbs, pronunciation, geographical names and nationalities, and expressions using numbers
• Informative two-colour illustrations relating to curriculum content.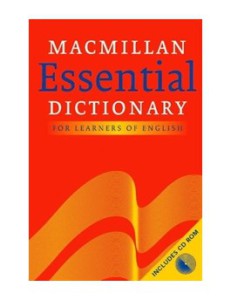 MACMILLAN ESSENTIAL DICTIONARY (Macmillan) 
Level: Intermediate
The Macmillan Essential Dictionary is an essential reference for the classroom and home, offering invaluable support for those wishing to write and speak English accurately.
Comprehensive:
- Two-colour dictionary with more entries than any other dictionary for intermediate learners
- The 35,000 most important words to learn are highlighted in red and graded for frequency of use Easy-To-Use –  'Menus' in entries with five or more senses to guide learners to the meaning they want – fast! – Special emphasis on contemporary vocabulary, such as computer language, new senses and colloquial language Essential! – 24-page 'Language Study' section on key areas – Frequent colour 'Help Boxes' containing grammar, vocabulary and usage notes.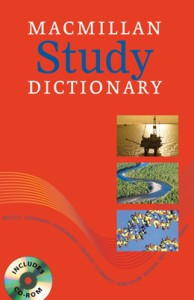 MACMILLAN STUDY DICTIONARY (Macmillan)
Macmillan Study Dictionary is an English dictionary suitable for upper secondary and university students   who study their subjects in English. Packed with curriculum words and a major  encyclopedic section, it is the complete reference source for students at this level.
* Collocations are shown in bold within entries, to help students speak and write more naturally.
* Definitions are easy to understand while being technically accurate and using appropriate terminology. They are written using a restricted vocabulary of 3,000 words and their accuracy has been checked by expert consultants.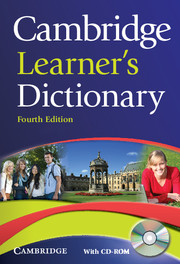 CAMBRIDGE LEARNER'S DICTIONARY + CD-ROM (4th. Edition) (Cambridge)
Intermediate to Upper Intermediate
The Cambridge Learner's Dictionary is the best route to success in English. This new edition updates the existing content and contains new features to make learning English even easier. The new edition has been revised and fully updated throughout and includes many new words (e.g. phone-hacking, cloud computing, rare earth, toxic debt) with more than 35,000 definitions in clear, simple English. English Profile levels mark the essential vocabulary that students need to know at CEF B1-B2 levels, see www.englishprofile.org for more information. Mini-collocation panels help students to produce more natural English. Common mistakes are highlighted based on the Cambridge English Corpus. The accompanying CD-ROM includes a 'record yourself' feature for pronunciation practice and spoken pronunciations of every word in both British and American English.


CAMBRIDGE SCHOOL DICTIONARY + CD Rom (Cambridge)
Intermediate to Upper Intermediate
The Cambridge School Dictionary is the perfect study companion for students studying other subjects through English. It includes vocabulary from all the main CLIL and International GCSE topics – from biology to economics and from IT to literature – to give you the confidence and support you need to learn in English, whatever the subject. Every word is explained in clear, simple English, along with all the grammar and usage information you need to use English correctly.
The CD-ROM contains the whole dictionary in a handy, searchable format, and many more features to help you find the words you need and develop your language skills.
DICTIONARIES:

English/ English – ELEMENTARY LEVEL
Nivel ELEMENTAL
LONGMAN BASIC ENGLISH DICTIONARY (Longman)
3rd edition
Younger learners will find this dictionary a simple and fun introduction to monolingual dictionaries.
12,000 words and phrases with simple definitions and examples / 16 full colour topic pages and hundreds of illustrations / Workbook exercises for vocabulary practice.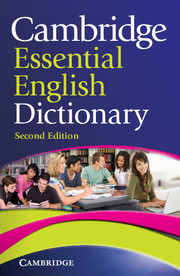 CAMBRIDGE ESSENTIAL ENGLISH DICTIONARY 2nd edition (Cambridge)
Level: Beginner to Pre Intermediate
Using a monolingual dictionary for the first time can be daunting. This new dictionary is the ideal introduction for beginners and pre-intermediate learners. It covers the essential English needed by learners at this level, with its short, easy definitions that are easy to understand, and numerous example sentences to put the language into context.  Hundreds of illustrations help to explain the words and build vocabulary.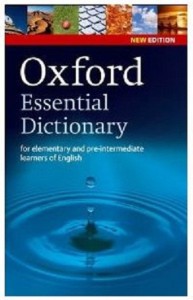 OXFORD ESSENTIAL DICTIONARY (Oxford)
Level: Elementary to Pre Intermediate
Level: Elementary to Pre-Intermediate (A1-A2) Age Range: Upper primary to adult The dictionary provides the help and information learners at elementary to pre-intermediate level need with the most important words to learn marked, simple explanations, and extra help with spelling, pronunciation, and grammar. 200 new words, including app, tweet and wind farm Over 24,000 words, phrases and meanings 2,000 most important and useful words to learn marked as keywords 500 Notes on spelling, grammar and pronunciation help learners avoid mistakes 13,000 examples help students use words correctly 400+ illustrations throughout the dictionary explain difficult words 16-page colour Picture Dictionary 16-page Study section gives extra help on topics such as letter writing, talking about dates and numbers Oxford Essential Dictionary CD-ROM Search the complete A-Z dictionary Hear spoken British and American pronunciation of all the words 1000s of spoken examples at keyword entries Prepare for the Starters, Flyers, Movers, and KET for Schools exams with the games and exercises NEW iGuide, an interactive tutorial to help students explore dictionary entries.
ACTIVE LEARNING DICTIONARY (M&M)
Active Learning Dictionary not only helps learners build up their vocabulary, but also draws their attention to grammar points, correct usage, spelling tips and more words related to the headwords.
this compact and learner-centred dictionary intends to improve student´s vocabulary and their ability to communicate in English.
20.000 words and phrases, 15.000 example sentences, 1.600 language panels on: extended vocabulary, spelling tips, grammar help, antonyms and synonyms, 200 illustrations.
PICTURE DICTIONARIES

/ Diccionarios Pictóricos – English / English –


For children/ Para chicos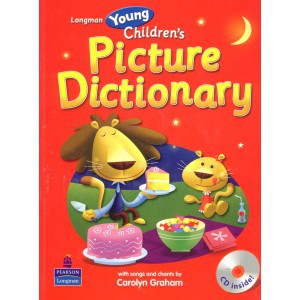 LONGMAN YOUNG CHILDREN´S PICTURE DICTIONARY + 2 Audio Cds.
2 to 5 years old
The Longman Young Children´s Picture Dictionary presents words through a variety of appealing illustrations designed for young children.. The word list has been carefully researched to cover key words appropriate for students beginning to learn English. The dictionary is specifically designed to appeal to young learners aged 2-5 and can be used at home or in class.
The Longman Young Children´s Picture Dictionary includes an Audio CD with all vocabulary, dialogs, songs and chants.
Also available is the Activity Book which includes everything you need to teach young learners with short attention spans and limited motor skills.

LONGMAN CHILDREN´S PICTURE DICTIONARY + 2 Audio CDs
Presents 800 words in a variety of richly illustrated and photographed topics/ Activities to practise vocabulary and dictionary skills/ One to four dialogues per topic for vocabulary substitution/ A comprehensive index including word list, dialogues and lyrics to the songs and chants.
Two CDs are included at the back of the Longman Children´s Picture Dictionary. They are designed for use in class by the teacher and at home by the students. They include the pronunciation models for all the vocabulary words and dialogs from the Picture Dictionary pages. They also include 50 songs and chants plus their full karaoke versions.
The Teacher´s Resource Book provides a wide range of ideas and materials for practising and reviewing vocabulary in the Picture Dictionary.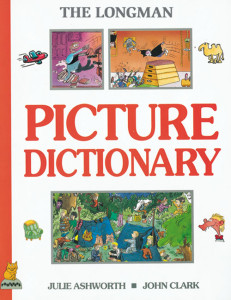 LONGMAN PICTURE DICTIONARY (Longman) 
Elementary. For Children.
The Longman Picture Dictionary is specially designed for young learners and is ideal for use either in school or at home.
It contains:
• over 1500 words, arranged alphabetically and by topic
• enjoyable tasks and activities which help children build vocabulary and develop basic dictionary and reference skills
• beautiful illustrations and photographs which combine clarity and humour, making children want to return to the dictionary time and time again.
Adolescents/ Adults (Adolescentes/ Adultos)

LONGMAN PHOTO DICTIONARY (3rd. Edition) (Longman) British English
Attactive colour photographs! These photo dictionaries give students instant understanding of basic words and are ideal for adult students at the first stage of vocabulary building.Meanings of words can be easily understood from clear colour photographs / Easy to use – vocabulary is organised by topic / Create instant dictionary lessons using the conversation and vocabulary activities on every page/ 3000 words grouped into 94 topics / 1300 colour photographs.Listen to all the words on the audio CDs and build fluency through the class conversations and writing activities that are found on every page.

LONGMAN PHOTO DICTIONARY OF AMERICAN ENGLISH + Audio CDs. (Longman)
American English
This is an ideal dictionary for the first stages of vocabulary building, especially for adults.
1000 clear and up-to-date photos make learning over 2500 basic words easy and memorable /  Conversation and vocabulary activities offer extra speaking and writing practice on every page, and in a separate section at the back / Includes 2 audio CDs with pronunciations of every word.