Ingles Técnico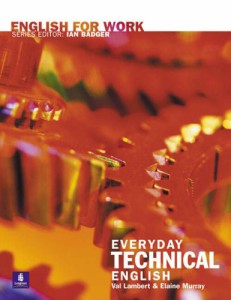 ENGLISH FOR SPECIFIC PURPOSES / Inglés para fines específicos
TECHNICAL ENGLISH/ Inglés Técnico
EVERYDAY TECHNICAL ENGLISH – English for work series (Longman)
Book + Audio Cd.
Everyday Technical English is for students with an intermediate level of English and can be used in the classroom or for self-study. The book develops spoken language skills by presenting and practising vocabulary and expressions that are useful in everyday working life.
The book offers: essential language and vocabulary presented in realistic contexts, useful notes to explain important language points, a variety of practice exercises with answer keys provided, useful phrases and dialogues recorded on CD.


TECHNOLOGY – OXFORD ENGLISH FOR CAREERS (Oxford)
Level intermediate. For adults and young adults.
Oxford English for careers is a new, up-to-date course where you learn whay you need to know for a career in technology
• learn the english you need to do the job
• practise language in real work situations
• learn specialist vocabulary on every page
TECHNOLOGY gives you the language, information, and skills you need to start your career
• it´s my job -real people talk about their work in technology
• customer care- key interpersonal skills for customer relations
• gadget box- the latets technological innovations
• reading bank- practice in reading for technology
• facts, figures and quotations all about technology
• online interactive exercises to revise and recycle language.
Components: Student´s book 1, 2 / Teacher´s book/ Audio Cds.
WORKSHOP: INFORMATION TECHNOLOGY (Oxford)
WOOD,Neil
The workshop series gives lower-intermediate students a practical foundation for the English they need in the real world.
You can use the 25-30 self-contained lessons in the classroom or at home. They include the authentic texts, skills practice, functional language, and vocabulary needed for all the important topics on a vacational school syllabus.
INFOTECH (CAMBRIDGE)
Now in its fourth edition, Infotech is a comprehensive course in the English of computing, used and trusted by students and teachers all over the world.
Fully updated in line with the latest developments in Information Communications Technology, this edition teaches intermediate students the language and skills they need to understand and work in the world of computers. The 30 topic-based units cover everything from computer essentials through to programming, web design, job hunting and future technologies.
Components: Teachers + Cds
TEXTBOOKS SUGGESTED:
TECHNICAL ENGLISH, David Bonamy (Longman)
Level: Upper Secondary. Elementary, Pre Intermediate
New for Technical Schools!!
Components: Student´s book split edition (st`s + workbook + w.b. cd), Teacher´s with cd rom, Audio Cds.
Technical English is a four-level course specially written for students in technical or vocational education.
It covers the core language and skills that students need to communicate successfully in all technical and industrial specialisations.
User-friendly: technical concepts are clearly presented using motivating texts and clear illustrations / Updated: topics reflect the latest developments in technology and are relevant to students' needs / Flexible: the course uses core language common to a range of specialisations
TECH TALK, HOLLETT,Vicki & SYDES,John (Oxford)
Levels: Elementary, Pre intermediate
Tech talk is a new course in practical, everyday communication for the international workplace.
Tech talk equips learners fo real-life, hands- on tasks like describing a problem, giving instructions, explaining functionality, or offering help. From maintenance to customer service, and from manufacturing to technical support, the focus is always on getting the job done.
Components: St´s book, workbook, teacher´s book, audio cd.
Also: 
HOW TO TEACH ENGLISH WITH TECHNOLOGY DUDENEY,Gavin & HOCKLY,Nicky (PEARSON)
How to teach English with technology is a practical guide for teachers who wish to use new technology in the classroom.
It looks at current applications but also helps you prepare for the future.