Para propositos especificos
DICTIONARIES FOR SPECIFIC PURPOSES/ DICCIONARIOS PARA FINES ESPECÍFICOS.
 
DICTIONARY OF CULINARY & MENU TERMS (Wordsworth)
Rodney Dale – Level: Intermediate for Adults  The Wordsworth Dictionary of Cullinary & Menu Terms contains over 12.000 entries and will be invaluable to chefs and gourmands, fascinating to browsers and crossword enthusiasts, and a handy companion for hungry travellers or those wishing to aoid the potential pitfalls of self-catering and ordering meals in restaurants in foreign lands. In short, this book is essential reading in foreign for those who want to know the difference between chiorro, chiozzo, choko and chorizo, or who cannot tell a kaboucha from a kabanosi. Rodney Dale has assembled and arranged a rich diet of terms used for ingredients and recipes which are encountered in cuisine world-wide.This pabular vocabulary will be eagerly embraced by all those interested in and engaged in food and its preparation from whatever culture and tradition they may come.
SPECIALISTS DICTIONARIES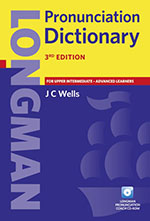 LONGMAN PRONUNCIATION DICTIONARY + CD ROM (Longman)
   Jhon Wells – new edition This new third edition of the Longman Pronunciation Dictionary gives students detailed      guidance on over 225,000 pronunciations. Fully revised for 2008, it includes new words such as iTunes, Skype andTikrit. This new edition also includes the brand new Longman Pronunciation Coach CD-ROM which gives students practical help to improve    their own pronunciation. It Helps students with over 225,000 pronunciations in both British and American English using the International Phonetic Alphabet  and it helps with intonation by showing the stress patterns of thousands of compounds and idioms.  
NEW – now with the Longman Pronunciation Coach CD-ROM: Students can listen to the pronunciation of all entries in British and American English, then record and check their own pronunciation / Self Study Lab – Students can learn the International Phonetic Alphabet and practise their pronunciation with thousands of interactive exercises and feedback from Professor Wells / Teachers' Resource Centre provides you with downloadable exercises for use in class.
CAMBRIDGE ENGLISH PRONOUNCING DICTIONARY + CD ROM  18th edition (Cambridge)
JONES, Daniel – Level: Upper-Intermediate to Advanced The 18th edition includes over 230,000 pronunciations of words and phrases. Unlike general dictionaries, it also includes the pronunciation of proper names, people and places. It also features The World of English Pronunciation – a collection of lively essays on aspects of pronunciation by leading experts in the field, and includes a phonetics and phonology glossary and notes on the relationship between spellings and sounds. Key features
Over 80,000 entries and 215,000 pronunciations using the International Phonetic Alphabet.
Includes proper names as well as general vocabulary.
CD-ROM and online version include spoken pronunciations in British and American English.
Panels give information on sounds and phonetics terminology.
CD-ROM includes exercises, pronunciation pronunciation practice, and phonetic search facility for comparing sounds.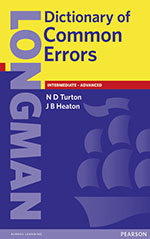 LONGMAN DICTIONARY OF COMMON ERRORS (Longman) – New edition
 J B Heaton, N D Turton.  Level: Intermediate to Advanced
The Longman Dictionary of Common Errors is based entirely on a corpus of genuine students' writing – the Longman Learner's Corpus. This means it gives a true insight into the common errors that students make in their spoken and written work, and provides clear and easy-to-use methods to avoid and correct these errors.
Over 2500 alphabetical entries, with language notes giving clear explanations of the problems underling each error / Authentic example sentences taken from the British National Corpus showing correct use in context / 30 special language features focusing on key problem areas / Illustrations to aid comprehension and reinforce meaning.

MACMILLAN COLLOCATIONS DICTIONARY (Macmillan)
This two-colour dictionary of common word combinations has been compiled using leading-edge collocation-finding software and a 2-billion word corpus modern English. •Focus on students´productive needs, with collocations for over 4.500 carefully-selected key words •Simple, informative structure: collocations are grouped is semantic sets within each entry •Examples from authentic English show how collocations are used in context •Easy-to-use layout with all headwords printed in red •Usage boxes with grammatical notes, synonyms, and alternative expressions •Ideal for IELTS, with special focus on academic, professional and                                                                             creative writing, with information on register provided where appropriate.

OXFORD COLLOCATIONS DICTIONARY + CD Rom (Oxford)
Level: Upper intermediate/ Advanced The dictionary that helps students write and speak natural-sounding English, now in a new edition with CD-ROM. Which words usually go together? This dictionary shows you the common word combinations (collocations) that are essential for natural-sounding British and American English. Completely revised and extended, the new edition has over 250,000 collocations and over 75,000 examples.
DICTIONARIES OF CULTURE / Diccionarios de CULTURA

OXFORD GUIDE TO BRITISH AND AMERICAN CULTURE (Oxford)
Level: Upper intermediate to Advanced Everything you need to know about British and American culture in the 21st century. Key features: The rich, the famous and the infamous, history, tradition, folklore, legends, nursery rhymes, festivals, music, food, and attitudes. Up-to-date lists of the books that have won the big literary prizes to help you choose what to read. Selected bibliographies for further reading. Ideal reference support for culture and institutions courses and inter-cultural awareness training. Over 10,000 entries and hundreds of illustrations.

LONGMAN DICTIONARY OF ENGLISH LANGUAGE AND CULTURE (Longman)
3rd edition
Level: Upper Intermediate to Advanced No matter how advanced your level of English, it's difficult to fully understand the language unless you understand the many cultural references that you see when reading books or newspapers. This dictionary gives you a deeper insight into the language by explaining cultural references, and helps you easily answer those difficult questions students might ask you about British and American culture. It covers everything you are likely to need – 15,000 encyclopaedic entries covering people, places, history, geography, the arts and popular culture. Get in-depth understanding on topics such as festivals, special days and key events in British and American history from the colour feature pages. No need to carry two dictionaries – also includes a full language dictionary
DICTIONARY OF SYNONYMS 

/ IDIOMS / PHRASAL VERBS/
Diccionario de Sinónimos, Expresiones idiomáticas, Frases verbales.

OXFORD LEARNER´S THESAURUS + CD ROM (Oxford)
Level: Upper Intermediate to Advanced No two words are exactly the same – this is the Learner's Thesaurus that explains the difference./ Look up a word you know – e.g. fast – and find words with similar meanings – quick, high-speed, brisk, supersonic, express / Use the definitions and notes to understand the exact meaning of each synonym and how they differ from each other. Key features: Over 17,000 synonyms and opposites from written and spoken English. CD-ROM with access to the complete Thesaurus and over 250 practice exercises. 9-page Thesaurus Trainer to help you make the most of your Thesaurus. 16 Study Pages focusing on topics and exam-style questions. Illustrated Topic Maps with exercises to help build vocabulary. A-Z Index and Topic Index make it easy to find any word in the Thesaurus.

LONGMAN IDIOMS DICTIONARY (Longman)
Tearing your hair out over idioms? Feel like you're always in the dark? Don't worry – you can't go wrong with the Longman Idioms Dictionary- More than 6000 idioms from spoken and written English, like 'go postal', 'it's all gone pear-shaped', and 'be on the same page' /Wide coverage of both American and British English / Clear, accurate definitions, written using the Longman 2000-word Defining Vocabulary / Unique Idiom Activator® helps you choose the right idiom.

OXFORD IDIOMS DICTIONARY (Oxford)
Level: Intermediate to Advanced  A new edition of the dictionary that explains more than 10,000 of the most frequently used idioms in English today. This new edition has hundreds of new idioms and examples taken from our corpus. It also has more notes on the origins of idioms, notes to help with difficult vocabulary, study pages, exercises and cartoons to aid learning and add interest. Contains a wide range of idioms, from expressions used in business and newspapers to very up-to-date informal English and slang expressions. Covers idioms from British and American English and other English-speaking countries. New design and simple system of links to help you find what you want quickly and easily. New opposites and related words to build vocabulary.

OXFORD PHRASAL VERBS DICTIONARY for Learners of English (Oxford)
Level: Intermediate and avobe This new edition will give students help with synonyms, allowing them to decide whether a phrasal verb or a single-word verb is the more appropriate choice. Key features: The dictionary gives students the information they need to understand over 6,000 common British and American phrasal verbs, and use them correctly. Clear, simple definitions, with examples to show how phrasal verbs are used. Usage notes dealing with common problems help learners avoid typical mistakes. Synonyms and opposites help learners build their vocabulary.

MACMILLAN PHRASAL VERBS PLUS (Macmillan) Gwyneth Fox, Michael Rundell
Level: Intermediate to Advanced A two-colour dictionary of phrasal verbs containing unique features to help students grasp this challenging and essential area of the English language. Key features: The most frequent phrasal verbs are highlighted in red and graded with stars, to show at a glance how important they are for students to learn. Clear explanations, thousands of corpus-based examples, menus for easy navigation and collocation boxes make the Macmillan Phrasal Verbs Plus easy to use and a stimulus for natural-sounding English. Original extra features help to make this an ideal reference to help learners lose their fear of phrasal verbs and start using them with confidence.

PHRASAL VERBS DICTIONARY (Longman)
The most extensive and complete phrasal verbs dictionary available, helping you understand and use them correctly. Over 5000 Phrasal Verbs, covers British and American English, Clear grammar patterns show you how to use phrasal verbs, Clear definitions using only 2000 common words, examples from the corpus sow how phrasal verbs are really used in context.
BUSINESS DICTIONARIES / DICCIONARIOS DE NEGOCIOS

LONGMAN BUSINESS ENGLISH DICTIONARY + CD ROM (Longman)
Do you need to explain macroeconomics in the classroom? Would your students know what a hurdle rate is? This new edition of the Longman Business English Dictionary gives students an in-depth knowledge of all the vocabulary they need to survive in today's fast-paced business environment, whether they are students of business English or people already in work. You and your students will find it easy to understand complex business terms because all definitions are written using just 2000 common words, making even the most difficult business jargon clear and easy to understand. Make sure you know the latest buzz-words – this fully revised edition is completely up-to-date. Students learn real-world business English from thousands of example sentences which are taken from authentic business english sources. Improve your students' chances of success in the BEC and BULATS exams, by introducing them to the interactive exam practice on the CD-ROMken from authentic business English sources.

OXFORD BUSINESS ENGLISH DICTIONARY + CD ROM (Oxford)
Level: Intermediate to Advanced This new up-to-date dictionary gives you all the help and information you need to do business in English. It explains more than 30.000 words, phrases and meanings in language you can understand, with examples so you use the words correctly. It shows you the 1000 most important words you need to learn. Over 30.000 words, phrases and meanings from marketing to manufacturing, and travel to telephoning. Real examples for new corpus that includes newspapers, journals and textbooks. Common phrases showing words you always use together (competitive/high/low/reasonable prices). Illustrations to explain business concepts and equipment (supply and demand, blister pack). Only the Oxford Business English Dictionary gives you the BUSINESS ENGLISH PLUS CD-ROM with everything in the Oxford Business English Dictionary, plus extra words and examples.